Students with significant social-emotional and behavioral needs are one of the most challenging groups within the school setting. Designing effective classroom learning environments that support the diverse needs of this population is equally challenging. Learn strategies that improve access and outcomes for ALL students!
The Collaborative Learning Solutions C5 Summer Institute is a 2-day in-person conference featuring nationally-known keynote speakers, interactive workshops, and more! This event held in Temecula, California is designed to help educators and leaders effectively support students with social-emotional and behavioral needs, especially those in self-contained classroom settings.
Intended Audience (Grades K-12): Site and District Leaders/Administration, EBD Classroom Teams, Intervention Teams, Site and District Mental Health Teams, and Instructional Assistants and Aids
Topics We'll Cover:
Assets-Based Education
Strengths-Based Approaches
Character Strengths
Social-Emotional Learning (SEL)
Student Engagement
Inclusive Learning Environments
Data-Based Decision Making
Trauma
Impact of Lived Experiences
Self-Care
Mental Health & Wellness
Cultural Responsiveness
We have 3-strands to support Administrators, Support Staff, and Classroom Staff. The intent of these 3-strands is to give each group a specific in-depth focus aligned to their role.

Dr. Steve Perry is one of the most sought-after speakers in education and advocacy in America. Widely respected by grassroots community members and internationally renowned leaders, his charismatic and compelling voice inspires. He is the educator whom Oprah Winfrey, Sean "P-Diddy" Combs, Bishop T. D. Jakes, and Steve Harvey call to offer insight to parents and children.
The word often used to describe Dr. Perry is "passionate." His authenticity is a welcomed addition to any discussion rooted in improving the lives of youths and the community. His skills are hard-fought and have been bestowed by his difficult childhood all the way through his Ivy League school graduation. He's the voice of a generation, a people's champion who has been fighting for disadvantaged children and families for thirty years.

Ashanti Branch, born and raised by a single mother on welfare in Oakland, California, took the road less traveled to get out of the ghetto and attended one of California's premier engineering colleges, California Polytechnic - San Luis Obispo. After tutoring struggling students and realizing his true passion was teaching, Mr. Branch changed careers from being a construction project manager to a teacher. He had suddenly found the "fire" that was missing in his life and he hoped to ignite a similar enthusiasm in his young students.
In 2004, Ashanti started The Ever Forward Club to provide a support group for African American and Latino males, who were not achieving to the level of their potential. With over 19 years mentoring youth and 10 of those years as a math teacher educating inner-city youth, Ashanti was awarded with a Fulbright Exchange Fellowship to India, a Rotary Club Cultural Ambassadorial Fellowship to Mexico, and a 2010 Teacher of the Year Award from the Alameda-Contra Costa County Math Educators. Mr. Branch is on a mission to change the way that students interact with their education and the way schools interact with students.
"When my students aren't learning, it's not usually because they can't... it's because they have deep-seated barriers that are holding them back. We can't change their past, but we can teach them to hold safe space, increase their emotional toolbox, and help each other." — Ashanti Branch

Teresse Lewis is an Educational Consultant for CLS. She brings over a decade of experience in effectively and compassionately working with at-risk youth, families, and educational service providers. Teresse, a former at-risk youth herself, brings passion, knowledge, and skills to the clients she serves. She is dedicated to providing education and training that positively impacts the trajectory of students, families, and communities. This passion has led her to serve in the role of past Program and now Executive Director of The Empowerment Center - a Non-profit family training center, as well as schools and residential treatment centers.
Teresse is a Licensed Clinical Social Worker (LCSW) and Therapist, who also holds a credential in School Social Work. She brings a very well-rounded experience of working in the educational, government, and private sectors, to intervene on behalf of some of society's most vulnerable populations; children. As a proud graduate of the USC School of Social Work, Teresse brings heart, education, and experience to the core of our community.

Justin Black is a graduate of Western Michigan University and a part of Forbes Next 1000 Entrepreneurs for 2021. Justin and his wife, Alexis, have published an award-winning, bestselling book titled Redefining Normal: How Two Foster Kids Beat The Odds and Discovered Healing, Happiness and Love that has impacted over 15,000 individuals and families. With the Redefining Normal company, they hope to continue the conversation on healthy relationships, mental health, community growth, and healing through speaking engagements, trainings, and book clubs.
Attendee Rate: $425
*Team Rate (4 or more): $399/person
*In order to qualify for a team rate:
You must have 4 or more registered attendees from the same school district.
All team members must be registered at the same time.
Please register as soon as possible to secure your spot!
(this is an alternative link to filling out the form above)
Schedule
View our sponsorship and exhibitor offerings!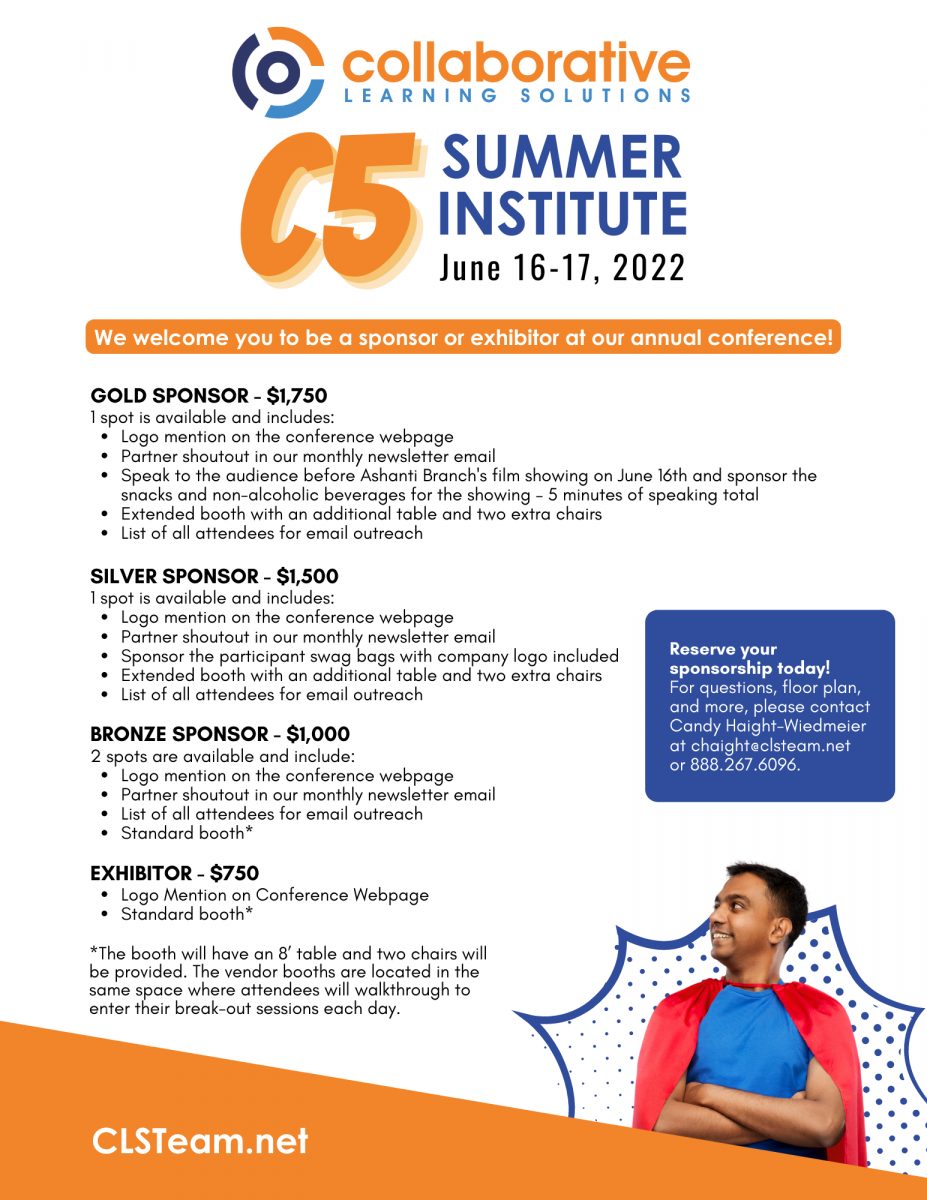 Contact Candy Haight-Wiedmeier to book your booth or sponsorship package.
Additional Details
Conference Dates: Thursday, June 16 & Friday, June 17, 2022
Event Location: Pechanga | 45000 Pechanga Pkwy, Temecula, CA 92592 (directions and map available here)
Contact: Candy Haight-Wiedmeier, chaight@clsteam.net, 888.267.6096

Sponsorship & Vendor Questions?

Contact us! We are happy to discuss opportunities and partnerships together!